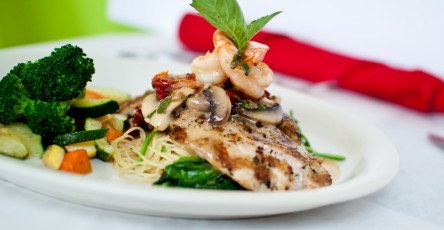 Price: $18.95 Red snapper filet served with sautéed shrimp, crab meat, mushrooms, sun-dried tomatoes, fresh basil served in a white wine lemon butter sauce over angel hair pasta and sautéed spinach. See Full Menu Here »
Bellissimo Fans' Favorites
Listen to Our Raving Fans!
"The food is great and the prices are very reasonable...the artichoke appetizer and the grilled snapper entree and both were great. It's a dive but don't let that fool you. Definitely check it out!"

JA

"This is a great little neighborhood Italian restaurant that you may not notice driving by, but they serve 5 star food! Do yourself a favor and give it a try, you won't be disappointed. Great food, great service, and family run...what more could you want?"

Greg L.

"This place will blow your mind. From the exterior, it looks like just another Heights hole in the wall. But, in this case, you truly can't judge on appearances; the food and service are first rate. We've tried several things on the menu and have been extremely impressed. The calle 25 and the farfalle were stupendous. Desserts are also delicious, and homemade. This place is definitely entering our rotation."

Heather G.

"Food is amazing and at such great prices! The Garlic Bread and Dipping Oil they bring you is fantastic. I've been a few times now and have been extremely pleased with my meal every time! The Snapper dish is great. The Cheese Ravioli is great. The Key Lime Pie is great! The Artichoke Appetizer is great. The Salmon dish is great. I totally recommend checking this place out! It's a hidden gem!"

Troobies K.